7th Strategic Sales Planning: A Data-Driven Approach Sales Planning
by Emilio Macasaet III
This innovative online synchronous training program is designed to transition sales professionals from traditional descriptive analysis methods to advanced data analytics techniques. By harnessing the discipline of data analytics, sales managers can delve deeper and obtain critical insights that inform superior strategic decisions. With this training, participants will be equipped with the strategic prowess and data-driven methodologies essential for modern sales planning. The outcome is a refined approach to sales strategy, leading to enhanced performance and lasting business success. Join us in this strategic sales planning webinar to unlock the keys to leveraging data for unparalleled growth in your organization.
Why You Should Attend? 
In today's competitive business environment with ever-changing consumer behaviors, the value of a data-driven approach is paramount. Data analytics in strategic sales planning outpaces traditional methods, delivering unparalleled insights. This allows businesses to anticipate consumer needs, refine sales strategies, and thrive in our data-centric world.

Why is this different?
Our approach to strategic sales planning breaks the mold. While a bulk of the existing sales planning techniques remains tethered to basic descriptive analytics, we delve deeper, revealing the rich insights that are crucial for shaping high-impact sales strategies. Our methods are not just an upgrade; they represent a paradigm shift in how sales planning should be approached.

Why you should learn from us?
Participants will gain from the facilitator's deep expertise in data analytics and his collaborations with top data scientists. The seminar goes beyond theory, highlighting real analytical projects the facilitator led for major firms. These case studies showcase the power of data analytics in sales planning, linking theory to real-world applications

TOPIC 1: Data Analytics: The Cornestone of Winning Sales Strategies
In this module, participants will embark on a comprehensive exploration of strategic frameworks, understanding where to play and how to win. They'll be introduced to various types of data analytics, learning their applications alongside illustrative case studies. Leveraging the TOSCA and Hypothesisdriven models, attendees will master the nuances of effective problem identification. The steps in strategy formulation will be delineated, ensuring a well-rounded grasp of the subject. To solidify these concepts and foster collaborative learning, the module will culminate in a group workshop.
Key Topics:
1. The Framework of Strategy: Where To Play & How To Win
2. Types of Data Analytics and How To Use Them (+illustrative cases)
3. Problem Identification: TOSCA and Hypothesis-driven models
4. Steps in Strategy Formulation
5. Group Workshop
TOPIC 2: Crafting Winning Sales Strategies
This module focuses on defining strategic goals and determining the most suitable segments to target. Participants will gain insights into designing compelling value propositions for the chosen segments and recognize the essential capabilities needed to achieve success. Moreover, they will learn about performance management systems crucial for sustaining the winning strategy. Real-world case illustrations will provide valuable context to enhance understanding
Key Topics:
1. State the strategic goals
2. Decide where to play
3. Design the value proposition in chosen segments
4. Capabilities needed to win
5. Required Performance Management Systems
6. Case Illustrations
   Schedule
    September 14, 15, 19, 20
    9:00AM - 12:00NN
Methodology
Four (4) Half-days Synchronous Online sessions: Includes lectures (all participants will get a handout in pdf copy), Q&A, breakout group discussions / plenary presentations. Each session lasts for 3.0 hours.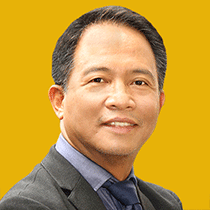 Emilio Macasaet III
Chief Channel Marketing Strategist
Emilio "Bong" Macasaet is the author of the best-selling, Distributor Management: Winning Tools in Managing Distributors as Partners, the first ever book on distributor management in the Philippine Market, 6 Steps To Effective Key Account Management, and the newly launched book, Fundamentals of Trade Marketing.
He brings with him very extensive and intensive corporate experiences gained from both local and multinational companies like Gillette, Nestle, L'Oreal, Metrolab and RFM Corporation where he was Vice President of Sales & Distribution division.
He conducts various sales seminars, consulting, and training programs in most parts of Asia-Pacific and Middle East. He obtained his MBA from Ateneo De Manila University and took his Doctor in Business Administration at De La Salle Graduate School of Business where he was a former MBA professor in Distribution Management.
Bong also attended an executive program on Marketing Channels at Kellogg School of Management, Northwestern University, Chicago; and other special programs at Singapore Institute of Management (SIM), Singapore, and Burke Institute, USA.
He partly writes a column in Business World newspaper and is currently a professor in marketing management at the Ateneo Graduate School of Business (AGSB).