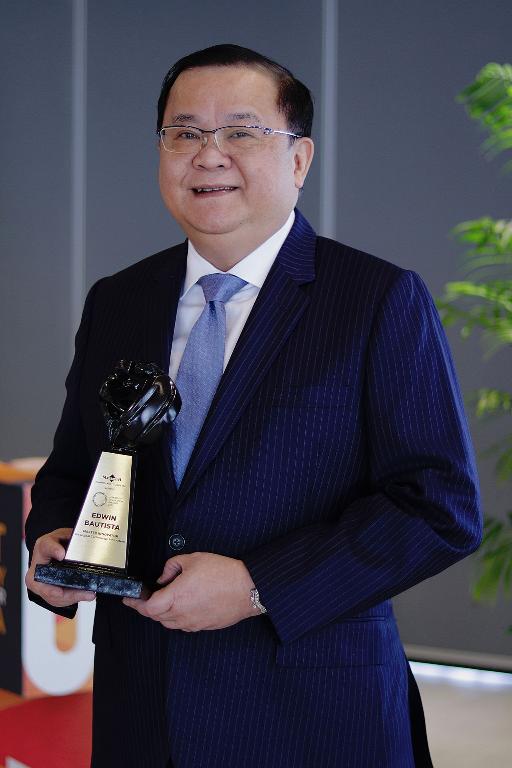 EDWIN BAUTISTA
President and CEO, Union Bank of the Philippines
MASTER INNOVATOR FOR DIGITAL TECHNOLOGY INNOVATION
Disruption is real, affecting every industry in the world, even those that previously assumed their sector to be immune. We need to constantly invent and re-invent in order to survive, more so be able to stay on top of the game. Innovation is the game-changer."
Edwin R. Bautista, serves as President and Chief Executive Officer of the Union Bank of the Philippines (UnionBank). He was recently cited by The Asset as Digital Banker of the Year – 2020 for Asia Pacific. He was also previously recognized as Best Banking CEO – 2018 by The European financial publishing group, and as the Banking CEO of the Year for Asia – 2018 by the International Banker.
Bautista has a stellar track record in banking, spanning more than 25 years of experience.
Since joining UnionBank in 1997 as Senior Vice President, he has driven the growth of the Bank's Transaction Banking, Commercial Banking, Operations and Consumer Finance centers.
Soon after becoming President in 2016, Bautista launched UnionBank's "digital transformation" which prompted the launch of several pioneering products, services and platforms such as the first "selfie-banking" in Asia, the first fully digital bank branch in the Philippines, as well as the first "chatbot" in the country. This is on top of other initiatives like partnership with fintechs and advocating the use of blockchain technology.
As a result, UnionBank garnered the Best Digital Bank award from Asiamoney and the Digital Bank of the Year award from The Asset for three successive years from 2017 to 2019.
Throughout his UnionBank career, Bautista has spearheaded many projects that have significantly improved the bank's key businesses. While constantly seeking new ways to improve the Bank's offerings as President & CEO, he has also stressed that the Bank's "higher purpose" is to be a key enabler for greater financial inclusion and sustainable prosperity for all Filipinos.
Prior to UnionBank, Bautista headed Citibank Philippine's Global Transaction Services Group. Before Banking, Bautista was with Procter & Gamble Philippines. He is a product of the Harvard Business School Advanced Management Program and De La Salle University, where he received his Mechanical Engineering Degree while garnering the prestigious Bro. Gabriel Connon Award.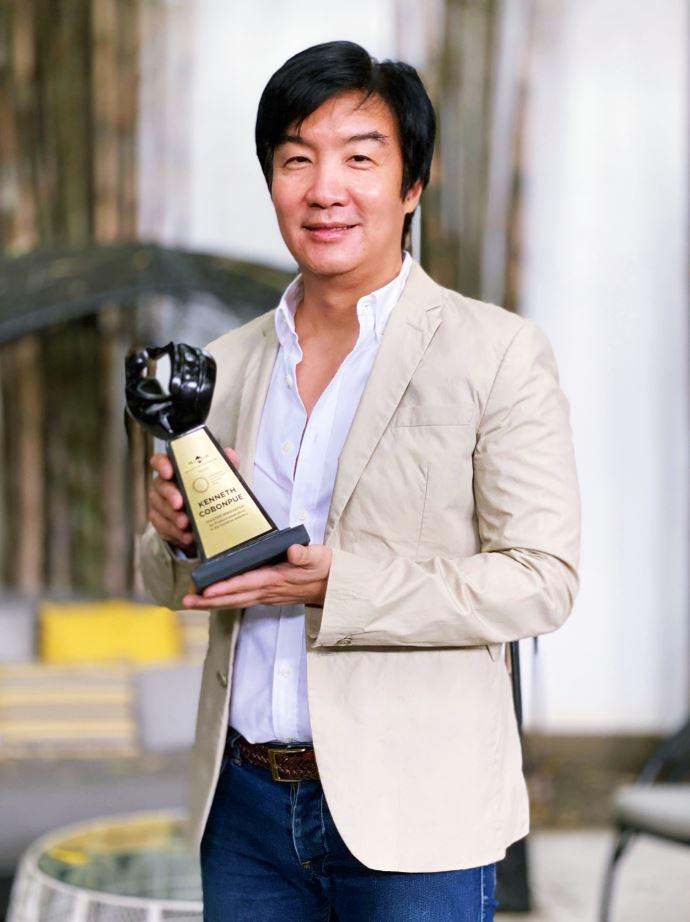 KENNETH COBONPUE
CEO and Creative Director, Interior Crafts of the Islands, Inc.
MASTER INNOVATOR FOR PRODUCT INNOVATION IN THE CREATIVE INDUSTRY
"Design is a living process forever transforming in response to the changing world. And with that comes innovation driven by creativity. It's important for me not to be boxed into a certain aesthetic, because it kills creativity and limits possibilities. It's about looking beyond what everybody sees, and creating change that enhances people's lives."
Kenneth Cobonpue is the CEO and Creative Director of Interior Crafts of the Islands, Inc., a company that develops high quality furniture for the collections of the KENNETHCOBONPUE® brand – well known globally for its unique and top-of-the-line furniture designs. Founded by his mother, Betty Cobonpue in 1972, Kenneth continues the legacy through his masterful way of integrating nature, traditional craft, and innovative techniques using natural fiber and materials, crafting pieces of functional art.
Kenneth studied B.S. Business Administration in UP Diliman but his passion for creating and defining modern design urged him to study Bachelor of Industrial Design at the Pratt Institute in New York, USA where he graduated as Summa cum Laude. While completing his studies, he apprenticed for a leather and wood workshop near Florence, Italy, then went on to study Furniture Marketing and Production at the Export-Akademie Baden-Württemberg in Reutlingen, Germany, under a private and state scholarship program, and subsequently worked in Bielefeld and Munich.
Today, Kenneth is a multi-awarded furniture designer with recognition from the Japan Good Design Awards (2003), won the grand prize at the Singapore International Design Competition (2004), as well as earned recognition in the Design for Asia Award of Hong Kong (2005), in the French Coup de Coeur Award (2009) and the American Society of Interior Design Top Pick selection (2012). In 2007, Time Magazine named Kenneth as "Rattan's first virtuoso" and was also the "Designer of the Year" in the first edition of Maison et Object Asia held in March 2014 in Singapore.
Today, Kenneth is the Intellectual Property Office of the Philippines' Ambassador for Industrial Design and the Creative Director of Creative Economy Council of the Philippines. Kenneth is also a founding member and Creative Director of Cebu Design Week and the founder of the Industrial Design Program at University of the Philippines – Cebu..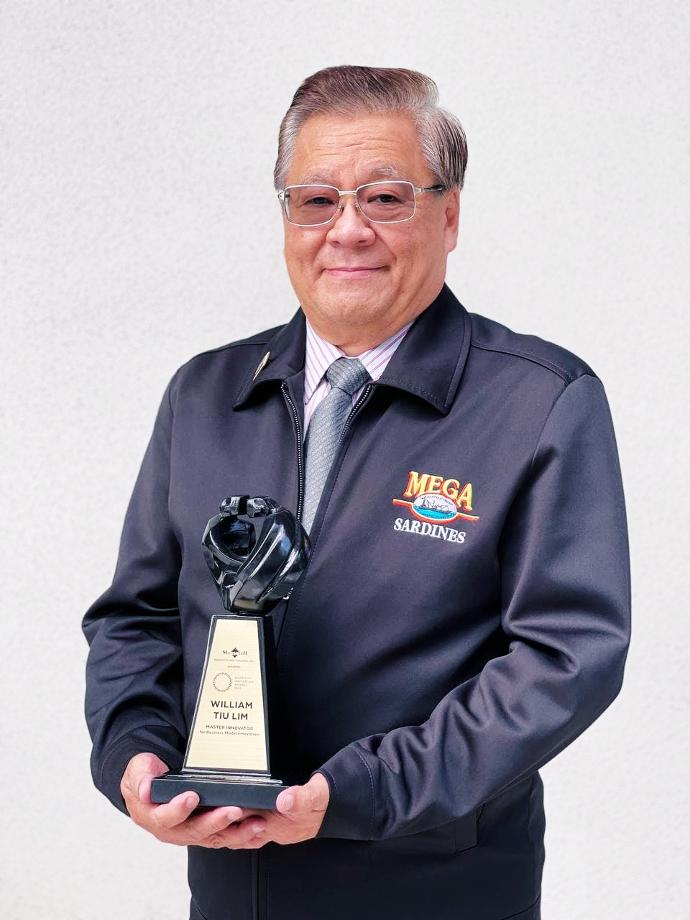 WILLIAM TIU LIM
President & CEO, Mega Global Corporation
MASTER INNOVATOR FOR BUSINESS MODEL INNOVATION
"Success is failure turned inside out. It's the ability to come out with a strategy to not fail again. A Filipino brand can beat foreign competition by diverting from the traditional and braving the challenge of attaining excellence as determined by the highest of standards in the global arena."
Mega Global Corporation, the leading manufacturer and distributor of canned goods, is the company behind MEGA SARDINES – the Number 1 Sardines Brand in the Philippines, and other high-quality, value-for-money products namely, MEGA CREATIONS Premium Sardines, MEGA TUNA, and MEGA PRIME Canned Vegetables. The company has two entities namely, Mega Fishing Corporation (MFC) and Ayala Seafoods Corporation (ASC). At the helm of this group of companies is its President & CEO, William Tiu Lim.
In 1999, because of his vision to provide Filipinos with quality product that they can enjoy, the Mega Sardines brand was born. It is known for its trademark "12-hour Catching-to-Canning Process" which means that the fishes are canned within 12 hours from the time that they are caught. He pioneered the fish pump technology in Asia, allowing the fish to be preserved at a constant temperature to minimize histamine development. These are to ensure the freshness and high-quality of the fish in each can of Mega Sardines. With the market knowledge that consumers value freshness in their choice of sardines brands, Mega Global launched a compelling campaign that made Mega Sardines superior to competition. It became the Brand Used Most Often (BUMO) and Top of Mind in 2013.
William always thinks forward to be ahead of the competition. Because of this, he launched Mega Sardines in Easy-Open-Can (EOC) to take advantage of the market's inherent desire for convenience. Competition followed the EOC bandwagon, but Mega Sardines holds the image to be the first brand in EOC. Succeeding campaigns were launched afterwards banking on product application to various dishes. These made Mega Sardines the Number 1 Sardines Brand in the Philippines based on AC Nielsen Retail Index. In an on-going campaign, it has reinforced its 12-hour catching to canning process as an important product benefit.
With William's vision and leadership, he was able to grow Mega Global to more than 80 fishing vessels, 2 canning plants with international certifications FSSC 22000, HACCP, HALAL and EU, with over 4000 employees. The company's brands are present in 38 countries worldwide. William further grew the company when he ventured into other product lines such as Mega Tuna and Mega Prime Canned Vegetables.
William is an advocate of continuous learning; he helps those who wanted to learn technical skills by opening a technical training school in Zamboanga in partnership with TESDA. William was finalist in the Ernest & Young Entrepreneur of the Year, awarded Entrepreneur of the Year in the Agora Awards 2015, awarded the Asia CEO Awards 2017 Meralco Biz Partners Entrepreneur of the Year and recognized as part of the Circle of Excellence as Global Filipino Executive in the Asia CEO Awards 2019.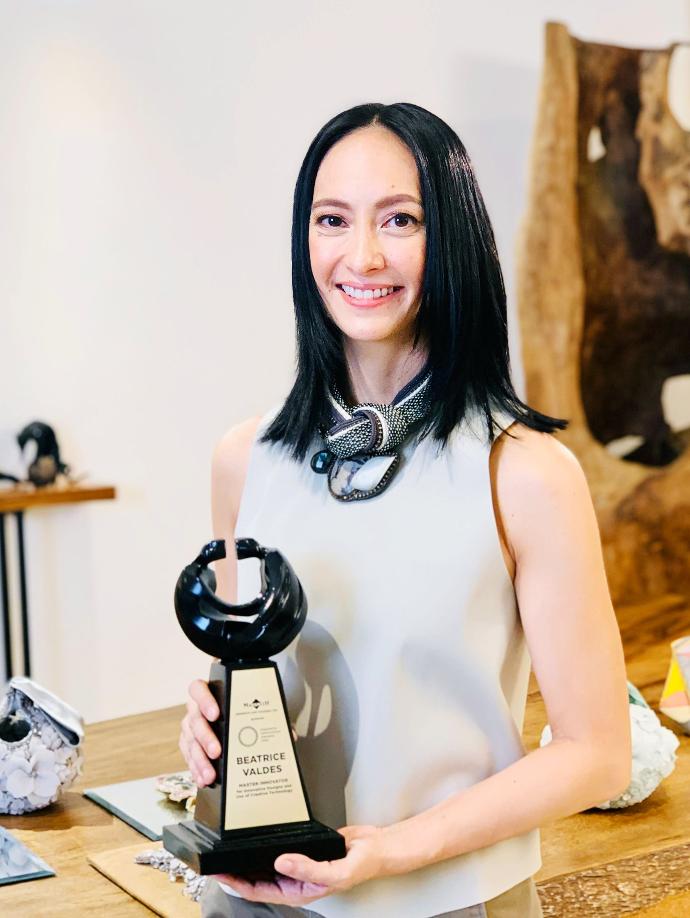 BEATRICE VALDES
Owner, BEAVALDES
MASTER INNOVATOR FOR INNOVATIVE DESIGNS AND USE OF CREATIVE TECHNOLOGY
"Everything is a starting point- An artist and designer's world in particular is marked by starting points, by endless possibilities, by genesis and metamorphosis."
Bea Valdes' dedicated efforts to generate greater visibility, awareness and opportunity for local craftsmanship and successfully compete at a world-class stage have resulted in numerous collaborative efforts that have benefited her industry and profession. Such innovative and dynamic synergies have had a ripple effect not just locally but on an international scale as well.
In 2018, she was invited to collaborate with Roche Bobois International, a French luxury retailer of furniture, to re-interpret the classic silhouette of their modular Mah Jong sofa. Past design collaborators of the campaign have also included Jean Paul Gaultier, KenzoTakada and Italian fashion house Missoni. The auctioned piece, done in Valdes' distinct signature embroidery, raised funds for the Asian Cultural Council of the Philippines which aims to create opportunities for cultural scholars and generate greater visibility for Philippine Arts internationally.
Last 2019, her creativity was spotlighted once again on a global platform as she was personally selected by the organizers of Premiere Classe, one of Europe's most iconic and prestigious fashion tradeshow, to be part an internationally assembled, global collection of 30 designers whose unique presence and creations have made an indelible mark in the fashion design industry.The collection was unveiled during Paris' landmark Fashion Week in October 2019 in honor of the tradeshows' 30th anniversary.
Earlier, in 2010, she was one of the Ten Outstanding Young Individuals (TOYM Awardee) recognized by President Aquino for her professional achievements. While Bea Valdes continues to receive international recognition for her distinctive hand embroideries, she remains in the Philippines, working with modern local artisans and perfecting her craft at her Manila-based studio. It is through her selfless dedication to her craft and community and her international success and recognition, that Valdes is able to shine a light on the Philippines as a design-hub specific to the high-end accessories trade.
Today, she continues to receive global recognition as a forward thinking, creative architect of uniquely distinctive quality luxury goods in the field of fashion and art. Her success shows that every Filipino has the capacity to pursue excellence through their passion, and to creatively and effectively translate this into a viable and impactful enterprise.