ENTERPRISE INNOVATORS 2020
This award honors rising, up-and-coming, consistently growing Filipino innovators whose work and creations have proved to be original, sustainable, and commercially successful.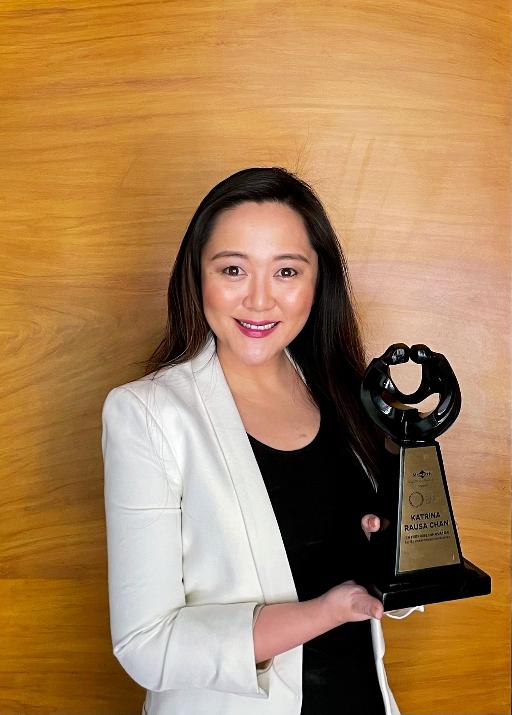 KATRINA CHAN
Director, QBO Innovation Hub
ENTERPRISE INNOVATOR FOR BUSINESS MODEL INNOVATION

"Innovation may be sparked by good ideas, but what really matters is execution."
Kat is the Director of QBO Innovation Hub, a Philippine startup platform and ecosystem enabler. QBO is the first of its kind public-private partnership initiative in the country specifically geared to provide resources and support for Filipino tech startup companies, formed through a collaboration among the Department of Science and Technology (DOST), Department of Trade and Industry (DTI), IdeaSpace Foundation and J.P. Morgan.
Inspired by the bahay kubo and the bayanihan spirit from which the organization derives its name, QBO aims to be a catalyst that helps local startups succeed, creating substantial wealth and job opportunities for Filipinos. In line with QBO's thrust to create a globally competitive startup ecosystem in the Philippines, it serves as a platform that encourages QLLABORATION—facilitating connections, promoting participation among stakeholders and showcasing Filipino ingenuity to a global audience; develops the QMMUNITY—building the entrepreneurial talent pool and providing startups with access to capital, resources, information and expertise; and provides INQBATION— developing successful startups through customized programs that accelerate growth.
As of the beginning of 2020, QBO has organized over 400 activities, including large scale events such as Techtonic Summit and the first Philippine Startup Week. It has also expanded its reach by leading a project to elevate and upgrade the entire network DOST incubators nationwide. Most significantly, QBO actively engages with and has extended over a hundred million pesos of resources to over 300 tech startups. All of these contribute to building a more robust startup ecosystem and support QBO's vision of Filipino Startups Changing the World.
Kat obtained her B.Sc. in Materials Science and Engineering, with a double major in Business Administration at Carnegie Mellon University in the United States of America. Recognizing startups' potential to leave a mark and create global impact through innovation, Kat returned to her home country with the desire to make a difference. She hopes to scale QBO to be as ubiquitous their namesake, and in some way contribute to creating the Philippines' first unicorns in the coming years.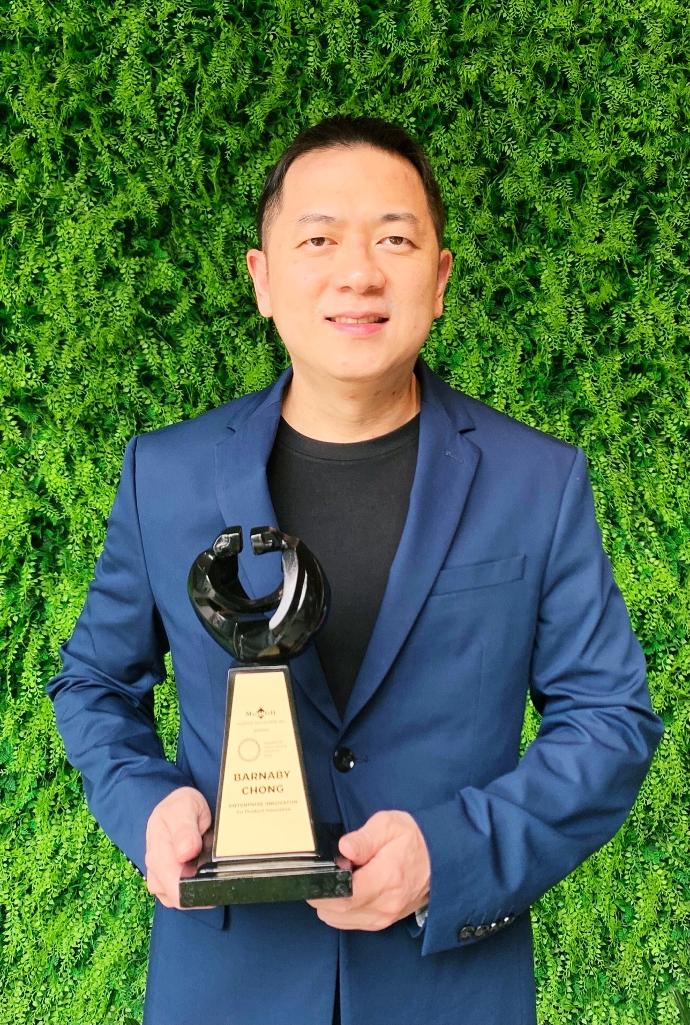 BARNABY CHONG
President, CHG Global, Inc. (EasySoft)
ENTERPRISE INNOVATOR FOR PRODUCT INNOVATION

"You don't have to start from scratch to innovate. You can always take what's out there and evolve it into something that nobody has done before. And there is always "something" that no one has done before. And the innovation can come in the form of the product features, product design, and the business model."
With already a number of reliable brands under its company, CHG Global Inc. and World Balance, headed by its President, Barnaby Chong, has relentlessly pursued to bring products to the market that would allow individuals to enjoy the comfort and versatility of a high quality shoe at a very affordable cost—the EasySoft brand.
Established in 2013, EasySoft is a response to the budget-conscious Filipino families who are looking for an affordable alternative to office and school shoes that have the aesthetic look of leather and all the attributes of a weatherproof shoe, for only a fraction of the cost.
EasySoft led the way in expanding the revolutionary all-weather footwear line with surprisingly affordable offerings. In the Philippines, EasySoft is one of the early adapters of groundbreaking footwear with the Vicrotech shoe technology. EasySoft is a world-class footwear that is durable, flexible, waterproof, and ultracomfortable.
Since 2017, EasySoft has sold over one million pairs of shoes every year.
As a local brand, they want to cater to Filipinos from all walks of life. At the heart of everything they do, they strive to uplift and enable Pinoys to turn those stumbling blocks into stepping stones to fulfill their dreams.
The goal is for EasySoft to be the ultimate answer to the local market's demand for high-quality yet extremely affordable footwear.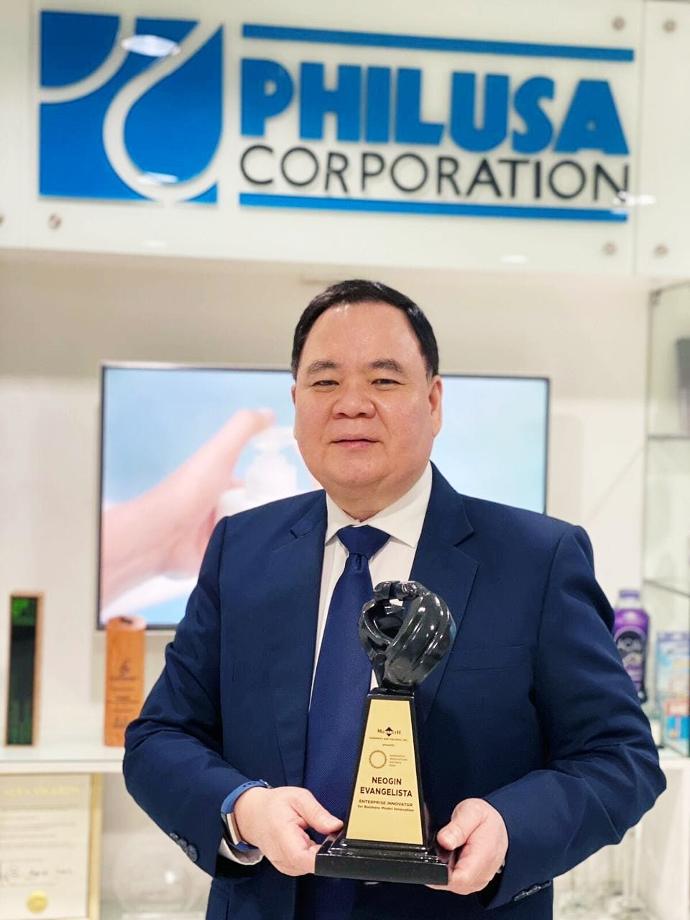 NEOGIN EVANGELISTA
President and General Manager, PHILUSA Corporation
ENTERPRISE INNOVATOR FOR BUSINESS MODEL INNOVATION

"Innovation emanates from a strong sense of purpose. An organization that is purpose-driven with a deep understanding of the market and can identify key consumer insights can successfully develop innovative products that will address the needs of its target consumers."
Philusa has had a deep relationship with Filipino families for many generations in the past 62 years. In 2014, led by its President and General Manager, Neogin Evangelista, PHILUSA Corporation launched RHEA Generics.
What sets RHEA Generics apart from its competitors is its uni-brand of innovative generics medicines developed in partnership with global leaders in the pharmaceutical industry, namely: Pfizer, Sanofi, GSK, Otsuka, Merck, and Fresinius Kabi.
Since then Rhea Generics has sustained its mission to touch the lives of every Filipino by providing them with world-class quality and affordably priced products in personal care, baby care, home care and health and wellness categories, while empowering Filipinos by giving them access to affordable, accessible, high-quality generic medicines amidst the ongoing rise in the cost of goods and services.
In just 5 years, the business grew more than 50%, proof of the soundness of PHILUSA's value proposition and its resonance with the common Filipinos' need for affordable yet high quality consumer products for everyday use.
PHILUSA won the 'Asia Corporate Excellence and Sustainability Awards 2019' as one of the Best Performing Companies in Asia, and was also awarded 'Asia Pacific Entrepreneurship Awards 2019' (Corporate Excellence Category).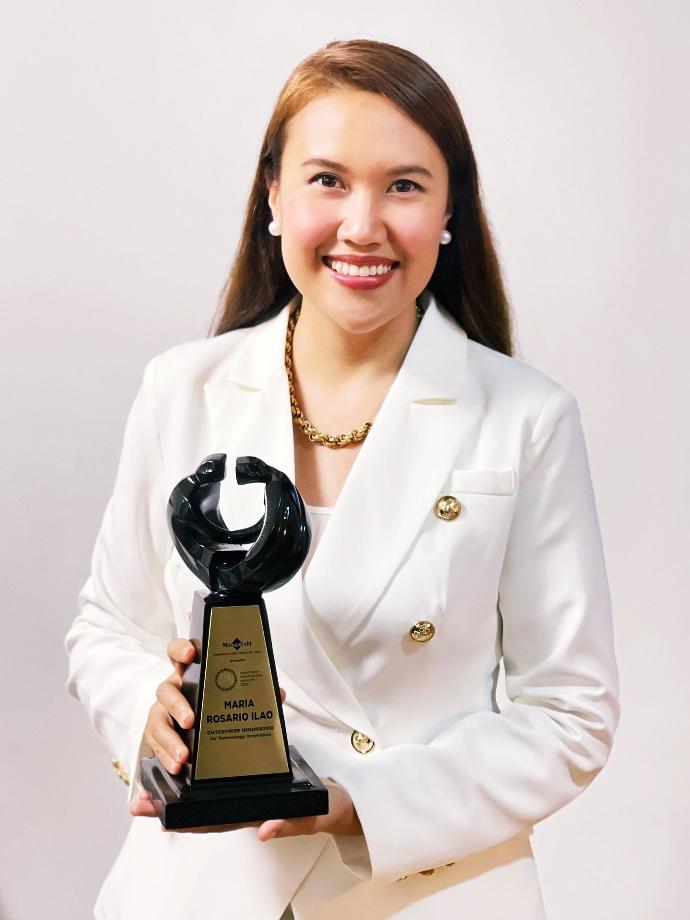 MARIA ROSARIO ILAO
CEO and Founder, MobileOptima, Inc.
ENTERPRISE INNOVATOR FOR TECHNOLOGY INNOVATION

"We want our local companies to experience and harness the power of real-time data so they can make real-time decisions. This is the reason why we are making digital transformation affordable and accessible to them through our innovative software solutions."
Rio is the founder and CEO of MobileOptima, Inc., one of the top technology companies in the Philippines that specializes in digital transformation. Last 2018, MobileOptima was one of 10 companies that represented the Philippines in Singapore's biggest IT event, ConnecTechAsia.
MobileOptima is the company behind Tarkie, a leading enterprise solution designed for field force automation. Through digitization and automation of field processes, Tarkie provides companies with real-time data and visibility so they can also make real-time decisions. Tarkie has 8,000 users nationwide and is considered one of the largest and most comprehensive field force automation solutions in the Philippines today. Some of its notable clients include Globe, Bounty Chicken, Abenson, Carrier, and Uratex.
Last January 2020, Unionbank partnered with Tarkie to empower its thousands of SME members through affordable digitization. Tarkie was also an Ideaspace Awardee in 2016 and was featured by PWC in the first-ever issue of the Philippine Startup Ecosystem Survey last 2017 as one of the country's most promising startups.
Prior to becoming an entrepreneur, Rio worked in Procter and Gamble for eight years, handling different roles in Finance in several countries in Asia. She was the Regional Finance Manager for Pantene for ASEAN, Australia and India. She also became the Global Supply Chain Finance Manager for SK-II Japan.
Through a full scholarship from the Metrobank Foundation, Rio was able to study in Ateneo de Manila University and graduate with Honors, with a degree in Bachelor of Science in Management Engineering. She was also chosen as one of Procter & Gamble's Top 12 Student Excellence Awardees of the Philippines in 2001.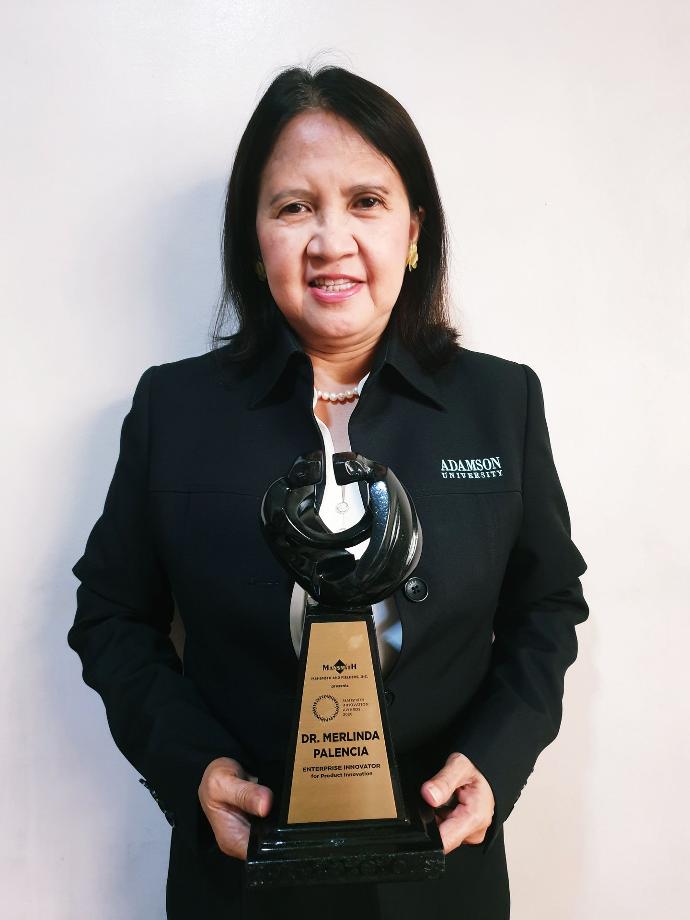 MERLINDA ABADICIO-PALENCIA
Chief Operating Officer, Envigor Natural Products Mfg. Inc.
ENTERPRISE INNOVATOR FOR PRODUCT INNOVATION

"Environment Protection is everybody's responsibility and accountability, and only NATURAL materials and processes can sustain resource conservation."
"Wastewater Treatment is everybody's responsibility and accountability."
It was this principle that led Dr. Merlinda Abadicio-Palencia, the Chief Operating Officer of Envigor Natural Products Mfg. Inc. (the 1st spin-off company of Adamson University technology commercialization program), to develop an innovative solution to wastewater problem – Vigormin.
Vigormin Biogenic Minerals was created to provide a local, low cost, and ecology-friendly method of treating used or wastewater at source. The application of Vigormin in septic water treatment reduced health risks to the communities from disease-causing germs and pollutants present in domestic wastewater. Such efforts also helped toward preserving clean fresh water resources such as rivers and lakes.
The innovation was recently chosen as the 'Technology of Choice' during Tek-Launch 2019 of the Technology Application and Promotion Institute under the Department of Science and Technology (DOST). Earlier in 2016, Dr. Palencia was conferred as the 'Alfredo M. Yao Intellectual Property Award' as the grand winner in the professional category, and was also awarded the 'Gregorio Y. Zara Medal' for Outstanding Technology Commercialization by the National Academy of Science and Technology in July 2019. She was also given the 2015 Prize for Engineering Excellence Award by the Manila Water Foundation for her dedication to the application of natural solutions to domestic wastewater treatment.
Dr. Palencia is a fellow of the Leaders in Innovation Fellowship, a joint program of Newton-Fund, U.K., the Royal Academy of Engineering, London and the Department of Science and Technology of the Philippines and a graduate of the Mashav– U.N. International Program on the Economic Empowerment for Women in Haifa, Israel.
Apart from being an advocate of healing mother nature particularly in the treatment of wastewater through natural materials, Dr. Palencia is also a full professor of the Chemical Engineering Department at Adamson University and had served as the Dean of Graduate School of the university. At present, Dr. Palencia is the project leader for two field-testing projects of Modular & Ecology-Friendly Domestic Wastewater Management in the Ati Community, Boracay Island, Malay Aklan (DOST-GIA Funded), and among selected SMEs in the Manila Bay Area (DENR-funded).
Dr. Palencia completed her Tertiary, Masters, and Doctorate education at the Adamson University. She was given several research grants by the Philippine Council for Industry, Energy, and Emerging Technology Research and Development (PCIEERD-DOST) for the development of ecology-friendly domestic wastewater management, natural odor neutralization and enhanced decomposition of organic solid waste.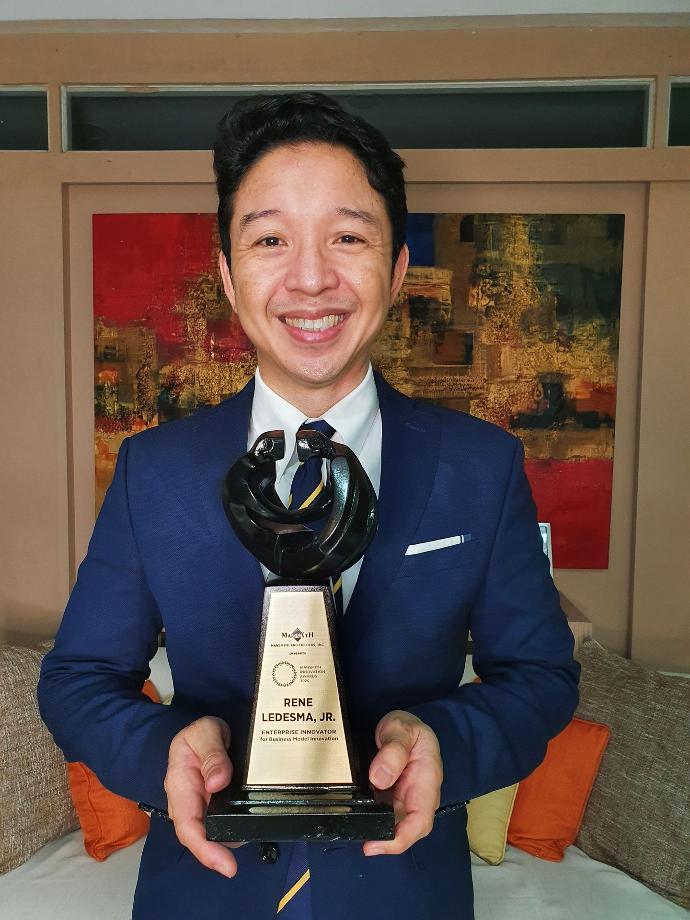 RJ LEDESMA
President and Co-founder, Mercato Centrale Philippines
ENTERPRISE INNOVATOR FOR BUSINESS MODEL INNOVATION

"Entrepreneurs don't see problems; they see opportunities that only they can uniquely solve. And that unique solution? That is where innovation lies."
Mercato Centrale Philippines, Inc. has evolved from being a destination weekend night food market into a pioneering business incubator ecosystem that helps micro and small food entrepreneurs become sustainable and scalable food businesses.
Originally co-founded by Consuls RJ and Vanessa Ledesma as a morning market in Bonifacio Global City (BGC), Mercato made a strategic move early on in its operations to transition to a night food market – a familiar business model in many Asian countries but still an untested business model in the Philippines at that time. Mercato's flagship market in BGC has drawn in thousands of hungry customers – from BGC residents, office and call center workers to foodie enthusiasts to balikbayans and tourists – during their nightly operations over the past ten years.
In 2016, Mercato faced a mounting business challenge with the emergence of 'food parks' all over the metropolis. As a result, the company re-visited its relevance to its consumers (both its small food business vendors and their customers) as these food parks attempted to take a page from Mercato's playbook.
After gaining insights, experience and a better appreciation of clients' needs, cofounder RJ led the transformation of Mercato into a food business incubator ecosystem: a 'one-stop' shop that addresses the 'pain points' of aspiring micro and small food businesses on their way to becoming stand-alone enterprises.
Since a business model is essentially how a business creates value and generates income, Mercato has strived to create value from both the business-to-business (B2B) and business-to-consumer (B2C) standpoints.
From a B2B standpoint, Mercato has developed: Mercato Academy – a series of workshops and training modules to help upgrade the skills of aspiring food entrepreneurs; the Mercato Incubation markets – semi-permanent and 'pop up' venues for aspiring food entrepreneurs to test their concepts in high foot traffic locations where they would not usually have access for their products; Mercato Food Hall – a permanent food hall where successful vendors can graduate from the incubation markets; and Mercato stand-alone restaurants – where Mercato provides investor and operational access to vendors who are ready to graduate from the Food Hall.
From a B2C standpoint, Mercato provides consumers with alternatives to high-priced fast food or convenience store food with a curated selection of authentic, home-cooked meals at value-for-money price points while also giving consumers the added benefit of supporting the growth of small food businesses.
In 2018, RJ received the Agora Award for Excellence in Entrepreneurship for Small-Scale Enterprises. In 2019, Mercato won 'Small and Medium Enterprise (SME) Company of the Year' at the Asia CEO Awards, 'SME Company of the Year' Award at the Asia Leaders Awards and the 'SME Excellence in Innovation Philippine Winner' Award at the ASEAN Business Awards.